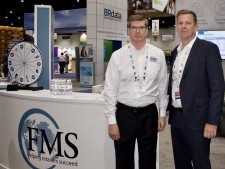 FMS Solutions made new leadership announcement during the 2020 NGA Show
FORT LAUDERDALE, Fla., March 3, 2020 (Newswire.com) - FMS Financial Management Services LLC (www.fmssolutions.com) appointed Gary Bickmore as the new Vice President of Strategic Alliances. In his new role, Bickmore will oversee FMS's non-organic growth strategies, and the SAS business relationships as well as third-party strategic alliances. This position will report directly to FMS President and CEO, Robert Graybill.
"As we transition into a new decade, our focus will continue to be providing quality solutions and services that respond to the increasing challenges independent retailers face," said Graybill. "This new leadership role will be critical to FMS's growth tactics, and I'm confident Gary's experience and results-oriented mindset will be instrumental in our approach moving forward."
Bickmore joined FMS in 2018, after serving in various executive roles in both wholesale and retail industries. In his role as a Key Account Executive for the West Coast and Canada, Bickmore quickly showed his value to FMS' strategic initiatives across both markets. The announcement was made official last week during the 2020 NGA Show in San Diego, CA.
In Bickmore's words, "I'm excited about the opportunity to work more closely with FMS clients and such a dedicated team." He also added, "Most of my professional life has been working with and supporting independent grocers, and I look forward to continuing to do so along with fostering and growing our strategic partnerships."
Gary Bickmore can be reached at gary.bickmore@fmssolutions.com
Source: FMS Solutions
Share: